Principal: Maree Furness
Deputy Principal: Mike Wilson
Primary Leader: Karen Davies Secondary Leader: Siobhan Skinner
Executive Officer: Heather Richardson Receptionist: Pauline Agnew
If you have questions, concerns or compliments please let us know – we value your feedback.
Kia ora koutou,
It was with much excitement this week that the final piece of play equipment has become operational. We have limited the use of the equipment in school time to Year 8 and below until students get used to the use of the equipment. Eight students were very lucky to experience Maud Island this week. Pelorus cluster schools are extremely privileged to have the opportunity to visit this sanctuary. A huge thanks to Bonnie Nightingale for all her work in organising this and to Hannah Hickson who accompanied the trip. School Production is looming. We are currently in level 2 which will make public production difficult. At this stage, we are planning positively, for a Production performance on Thursday 17th October. We will be able to confirm this after the government announcement on Monday 14th October. Also coming up, is the snow experience and planning is well underway. This trip is definitely for years 4 and above. We have a single day booking so if it doesn't happen on that day it will be cancelled. I would ask that you ensure that your students have the appropriate clothing and footwear. If you need to borrow additional clothing for the day please let me know so we can organise something. I would not want children to miss the opportunity because of clothing, as we often have contacts to lend items. I would stress the focus is on being warm not looking cool. As part of her environmental Year 12 programme, Aria organised a very successful activity evening. Her focus was on mental health and well-being. Congratulations Aria you did really well and it was a great evening. This week's "book week" is being run by the amazing Renee. I would encourage you to continue to support this event as it gives families an opportunity to purchase exciting new books. School policies are reviewed on a regular cycle. Sometimes these policies are reviewed by the BoT only, but sometimes there are policies that require community review. The current set of policies relates to learning support. These will be included in your child's newsletter or are available online. If you wish to make comment or give feedback – please return to the school office before the end of the term.
Nga mihi
Maree
Board of Trustee's Casual Vacancy
As a result of the resignation of Jess Patterson, The Rai Valley Area School Board of Trustees now has one vacancy for a Parent Trustee and will move forward with the selection of a suitable candidate. If you would like to be considered for this role, please contact a Board representative. Tony O'Donnell at todonnell@repco.co.nz Tania Billingsley at tania@hmlnz.co.nz
Lost Property – This week the lost property will be put out for you to look through, by the staff room. Any clothing left will be given to charity.
Playgroup – at Rai Valley Area School Welcome to come along and join in with the activities. Ages 5 and under. Held in Room 14 on school grounds. Tea and coffee provided. Bring a kids lunchbox and sunhat. Monday, Tuesday, Thursday at 9.00am to 12.00 noon. Facebook Rai Valley Playgroup. For further information please contact Kelsey Knight 03 5716353; Vicky Thompson 03 5716 212.
A Note from the Board
Bringing you relevant news from our monthly meetings This week we heard a report from Debbie Upsall about her new role as Learning Support Co-ordinator. She has been traveling the top of the South Island, sharing her time between schools in our COL (Community of Learning). We are very pleased to have her supporting our children. We have now received funding from the Ministry of Education to build a new office block in front of the staff room. Work for this will begin in October, and local builder Adam Harper has been awarded the tender. We have been approached by Tasman Rugby Union to work with them to develop a high-performance facility at the school – full proper lighting and grounds work. This would be a win-win for both the rugby union and our community – their players from Blenheim and Nelson would meet in the geographic middle to train together, and our community would benefit from being supplied with an excellent rugby field. As a Board we have given them a yes, and now the union will progress with seeking funding from their sources. The planned upgrade of the Primary block has been approved by the Ministry of Education as part of our 10-Year Property Plan. Maree and our staff have been working together with architects to redesign and modernize this. The previously mentioned COVID-19 Lockdown Parent Survey will be coming out shortly via Survey Monkey. We appreciate you taking the time to let us know what worked well during distance learning, and what could have been done better. This helps us improve our service in the hopefully unlikely event of another lockdown. All responses will be anonymous. That's all for September! Gabrielle Pooley
Learning Support News
Special Assessment
Conditions Special Assessment Conditions (SAC) can provide extra help for otherwise capable students who have difficulty showing their knowledge, skills and understanding in assessments for NCEA credits. SAC helps a student fairly demonstrate what they can do without providing an unfair advantage over other students.
Some examples of SAC include:
• special papers for vision-impaired students, for example in braille
• writers or readers for students with learning difficulties, such as dyslexia
• rest breaks for students with diabetes
• separate accommodation for students with an anxiety problem
• extra time for students with very slow thinking or writing skills
• a computer to write with for students with illegible or very slow handwriting
Teachers are asked to consider whether any students in their charge would not be able to demonstrate their true ability, knowledge and understanding in their particular subject under exam conditions. A student may, for example, be able to explain his or her ideas about a question orally, but be unable to adequately write those ideas him/herself. This student may need a writer to whom they could dictate their ideas, or perhaps a computer with voice recognition software. Another student may have an excellent understanding of their subject, but be unable to read the examination questions. This student would need a reader to read the questions to them.
Having observed how students cope with internal assessments, teachers can decide to apply to the NZQA (NZ Qualifications Authority) for SAC for any students they feel would be disadvantaged by normal exam conditions. Evidence of the difference this could make needs to be provided and the application needs to meet strict criteria. SAC support is available for both internal and external assessments.
Secondary News
Today a gear list for the snow experience has been sent home. Please make sure your child brings the gear outlined to school by the 17th of September. We appreciate your co-operation with this.
Primary School News
Student Work – Room 3's Descriptive Writing
One day I went for a walk in the bush with my dad. We took the dogs with us. When I was getting out of the car I saw the bush. I smelt the fresh trees and when I smelt the fresh trees I felt calm. When we walked through the bush we got into a pot where the sun was coming out in a gap. When I stepped in the sun my skin was warming up like I wasn't cold anymore. We kept on moving. We were walking past a river and I asked dad if I could have a look down there. He said, "Yes you can. I can just keep on walking on the track." I said, "Okay. I will see you soon." So he, "Ok." He went on the track and I went down. When I got to the river edge I felt the sand between my feet. I felt the water. It felt warm but cold. I heard the flowing as it was smashing down on the rocks. I could smell the trees. They smelt sweet and when I got back my dad asked how it was. I said it was good and we went home. – Katie
The beach smelt like salt and seaweed. There were heaps of kids. The sand was golden and hot. The water was crystal clear with sun reflecting off of it. There were surfers and boats everywhere. Even on a hot day the water was still very cold. It felt like ice but we got out our fluffy towels anyway and dived into the water. My skin turned ice cold and I complained about it being so cold so I got out. I got dressed and went on a walk. The sand was hot, almost too hot but kids were running around barefooted, playing with beach balls. When I noticed that my family was getting out I ran back to them. When they were dry we got in the car and went home. – Kaden
Te Hoiere/ Pelorus Catchment Restoration Project
Update Interested to find out about the Te Hoiere Project?
Come along, have a cup of tea (and a slice) and learn about the project. Learn what the project could mean for you, your family, your business and your community. It will be an informal opportunity to talk to the current steering group members and to learn about the ways how you can become involved. You are also invited to listen in on a Steering Group meeting, following the update, to hear what work is underway and how the project is progressing.
When: Wednesday 16th September at 10am -11.30am
Where: Havelock Town Hall, Cnr Main Rd & Inglis St, Havelock, Marlborough, 7100
For catering purposes, and to meet Level 2 COVID restrictions for public gatherings, please register here: https://www.eventbrite.co.nz/e/te-hoierepelorus-project-update-tickets-117930873417 Attendance is FREE. Looking forward to meeting you there!
Ngā mihi, Heli Wade Te Hoiere Project Manager
Kids Edible Garden
WANTED: Any old gardening tools, shovels, forks, hoes, trowels that are no longer needed in your own garden, we would really appreciate them for the students to use in the KEG garden. Please contact Renee or Haley at school. We would also be interested in any surplus packets of seeds or seed trays.
Daffodil Day – Thanks for the effort with dressing up and colouring in.
Results:
Junior (1-6) Senior (7-10)
3rd Gareth Woodley Aria Shallcrass
2nd Harriet Leov Mrs Stuart
1st Catherine Partridge Kayden Knight
BRIDGE VALLEY HOLIDAY CAMPS
As you may know, we run holiday programmes for children aged 8-13. Our camps are a great place for people to grow and try new things in a safe environment. We have two 'Army' themed camps coming up these school holidays. Along with activities, wide games, mainstage, and fun leaders, everyone will get a free round of laser tag for this camp only!
Army Camp for ages 8-11: 28th Sep – 2nd Oct
Special Forces Camp for ages 11-13: 5th – 9th Oct
Register at www.bridgevalley.co.nz or email holidaycamps@bridgevalley.co.nz with any questions.
Kind regards, Caitlin Clementson Holiday Programme Coordinator
Ph: 03 541 8465 Email: holidaycamps@bridgevalley.co.nz Web: www.bridgevalley.co.nz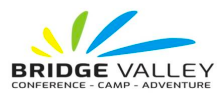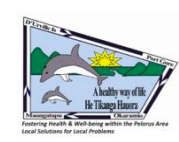 Pelorus Area Health Trust
Donations and Grants
At the recent AGM, PAHT gave out over $8000 in donations and grants to local community groups. Organizations in the Pelorus area who support the health and well-being of our community were given donations to help them with their important work. A Health Education Grant was also awarded to Jack Bowes-Clerke to help him with his dream to become a country GP in our remote area.
There were some interesting displays from these health organizations, including Jo Douglas from St John's Havelock demonstrating the bone drill used to administer drugs into unconscious patients. Luckily she had a model bone, so none of us needed to volunteer for the demo.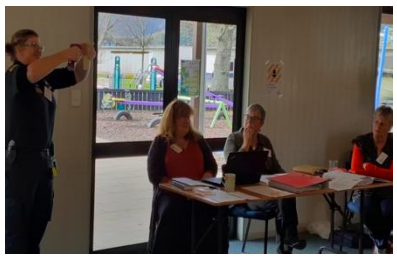 Mobility Aids Loans
PAHT has had a sort out and revamp of its medical aids. We have purchased a new wheelchair and blood pressure monitor; as well as servicing and repairing everything from toilet seats to walkers. If you need a medical or mobility aid to help with your recuperation, please call into the Charity Shop to sign one out. These are free to use- though we do accept koha on return.
www.PelorusAreaHealthTrust.co.nz
https://www.facebook.com/CharitableTrustHealth
Oral Health Educator: Marlborough – Heidi.Owers@nmdhb.govt.nz
Ph: 03 9284208 Mobile: 027 405 1463
Nelson Marlborough Community Oral Health Service
Nelson: 03 539 5324 Stoke: 03 539 5321 Richmond: 03 539 5320 Motueka and Tasman Mobile Unit: 0800 833846 Blenheim and Marlborough Mobile: 0800 833849